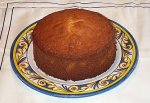 This cake is very typically Portuguese. In fact I got the recipe originally from a supermarket cookery magazine. I was intrigued by the idea of making a cake with such large quantities of olive oil and honey and just had to try it. Bolo Podre has a dense but not dry texture and can be served with fruit compotes or drizzled with honey or just enjoy a slice with a cup of tea. It keeps very well.
4 Eggs separated
100g Sugar
200ml Olive Oil
200ml Honey
1 tbsp Aguadente or Brandy
Grated rind of 1 Orange
1 tsp Fennel Seeds (Erva Doce) crushed
230g Flour
Grease an 8" (23cm) springform cake pan with olive oil.
In a bowl beat the sugar with the egg yolks until pale. Add the olive oil, honey, brandy, orange zest and fennel. At this stage it will look disgusting and curdled but do not be disheartened and beat well to mix. In another large bowl beat the egg whites until stiff. Carefully fold the whites into the yolk mixture a little at a time alternately adding spoonfuls of flour. Pour carefully into the tin and cook in the oven at 160ºC for about an hour and a half or until a skewer inserted into the centre comes out clean. Allow to cool in the tin and then remove tin and rest on a cake rack. Store wrapped in foil in a cool dry place.